Parent Education Certificate for K-12 Educators
The IPC's Parent Education Certificate qualifies participants to effectively provide parental engagement programs within their academic communities.
The program is structured as a series of workshops to equip teachers with the knowledge and skills necessary to understand the importance of parental involvement and deliver effective parent education programs, so that parents can better support the developmental needs of their children.
IPC's Academic Team has designed its Parent Education Certificate program to enable educators to understand their responsibility as a communicator, role-model and stakeholders. They will be able to identify areas of professional growth by analyzing new knowledge gained and current practices in relation to family engagement. They will examine potential challenges in getting families involved and developing solutions to improve participation. They will also analyze current parent communication practices and plan for ways to enhance communication-based on module theory and workshop discussions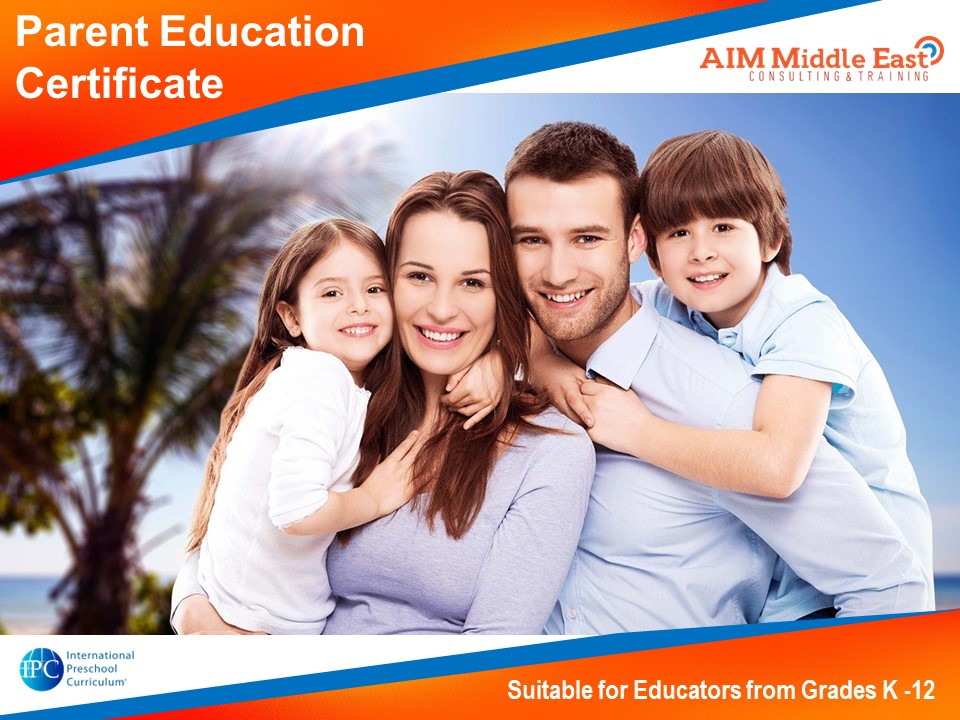 This course is recommended for educators working with school aged children.
ENROLLMENT CRITERIA
Participants should be over 18 years of age.
Participants should have at least 12 years of education.
Participants should be proficient in reading and writing in the English language.
LEARNING FORMAT
The IPC Parent Education Certificate is offered through a user-friendly e-portal, designed to maximize the participants' learning experience, ensure productive self-study and encourage exploration of best international practice. The program is facilitated by our highly qualified faculty to ensure participants are able to successfully convert learning into action and implement new knowledge acquired in their work environments.
PROGRAM COMPLETION
Access to a computer, laptop, or tablet, and internet connection is required to review and study course materials and for submission of assignments.
Participate and successfully complete all program requirements and assessments.
REGISTRATION CHECKLIST
Submit completed registration form via email to info@aimmiddleeast.com
Submit a copy of passport (or National Identification document) and education certificates.
Once registration forms have been reviewed and accepted, participants will be requested to pay the registration fees.
PROGRAM CONTENT
The program has two significant components
Part 1 consists of 3 Modules and develops skills to deliver effective parent education programs.
Educators for Part 2 will be grouped according to the age of children being taught and aims at developing a deeper understanding of the needs of the children, in order to communicate effectively with parents.
Family Engagement Programs Delivery
Family Engagement Competency
Module 1: Professionalism

Effective Communication;
Ethics, Bias and Cultural Awareness

Module 1: Positive Parent – Teacher Partnerships

Importance of Family Involvement
Benefits of Family School Partnerships

Module 2: Importance of Family Involvement

Family Dynamics
Family-School Partnerships

Module 2: Understanding Child Development & Learning
Module 3: Effective Presentations

Delivery; Preparation
Feedback and Evaluation

Module 3: Meeting Children's Needs
Pathways for Part 2:
1
Early Years Educators:
Working with children from 0 – 5 years; Up to KG 2/Year 1
2
Primary Years Educators:
Working with children from 6 – 10 years; Grades 1 – 5/ Years 2 – 6
3
Middle School Educators:
Working with children from 11 – 14 years; Grades 6 – 9/ Years 7 – 10
4
High School Educators:
Working with children from 15 – 17 years; Grades 10 – 12/ Years 11 – 13
ASSESSMENTS
Assessments are held throughout the duration of the program and are intended to evaluate both knowledge-based and practical learning. Assessments for each module include:
1. Assessment Quiz
2. Family Engagement Plan
3. Personal Development Plan
4. Practicum
A passing grade is awarded to those who achieve 60% and a distinction is awarded at 90% and above.
Pathways for Part 2
Early Years Educators
Primary Years Educators
Working with children from 0 – 5 years;
Up to KG 2/Year 1
Working with children from 6 – 10 years;
Grades 1 – 5/ Years 2 – 6
Module 1: Positive Impact of Parent – Teacher Partnerships

Introduction
Ice Breaker Activityr
Importance of Family Involvement

Module 1: Positive Impact of Parent – Teacher Partnerships

Introduction
Ice Breaker Activityr
Importance of Family Involvement

Module 2: Understanding Child Development & Learning

Developmental Milestones (Birth to 3 years)
Role of Play
Nurturing Social, Emotional & Cognitive Development

Module 2: Understanding Child Development & Learning

Developmental Milestones (4 to 8 years)
Role of Play, Creative Arts and Reading
Nurturing Emotional Expressiveness and Positive Discipline

Module 3: Meeting Children's Needs

Child Safety
Health & Nutrition
Behavior Patterns and Inclusive Education

Module 3: Meeting Children's Needs

Child Safety
Health, Nutrition and Mental Well Being
Behavior Patterns and Inclusive Education
Middle School Educators
High School Educators
Working with children from 11 – 14 years;
Grades 6 – 9/ Years 7 – 10
Working with children from 15 – 17 years;
Grades 10 – 12/ Years 11 – 13
Module 1: Positive Impact of Parent – Teacher Partnerships

Introduction
Ice Breaker Activity
Importance of Family Involvement

Module 1: Positive Impact of Parent – Teacher Partnerships

Introduction
Ice Breaker Activity
Importance of Family Involvement

Module 2: Understanding Teen Development & Learning

Puberty and Self Awareness
Importance of Time Management and Self-Motivation
Nurturing Empathy, Critical Thinking and Self Esteem

Module 2: Understanding Adolescent Development & Learning

Adolescent Behavior and Independence
Importance of Financial Planning and Setting Goals
Nurturing Problem Solving, Independence and Healthy Choices

Module 3: Meeting Teen Needs

Bullying and Safeguarding Advocacy
Health and Mental Well Being
Behavior Patterns and Inclusive Education

Module 3: Meeting Adolescent Needs

Bullying and Safeguarding Advocacy
Health and Mental Well Being
Behavior Patterns and Inclusive Education